Submissions are accepted on a rolling basis. Every year we publish a Call for Papers, setting the agenda for the upcoming issue. Please find the latest Call for Papers here and hand in your academic papers here. All submission enquiries shall be directed to the editorial board.
Eligibility
All students in Bachelor's and Master's degrees (and Diplom/Magister) in Germany and elsewhere are eligible to publish in the Young Journal of European Affairs. We don't require a certain degree of academic merit, submissions will be accepted independently of your academic experience. However, every article will be assessed on a common set of criteria and peer-reviewed before publishing. We strongly encourage students in their first years of study not to hesitate and hand in their papers. Please note that there is no guarantee that your submission will eventually be published.
Formal Requirements
  Font: Times New Roman
  Font Size: 12 pt.
  Text alignment: Justified
  Line Spacing: 1.5
  Citation: Harvard (please reference as outlined here)
  Formatting: APA
  Figures must be numbered accordingly
  Please include a list of references at the end of the article
  References are not included in the word count
  Abstract in the language of the article (100-200 words)
  Please add 3-5 keywords to the abstract
  Articles shall not exceed 8.000 words (excluding bibliography, footnotes, tables, figures, annexe etc.)
  Pages are to be numbered beginning on page three, after the table of contents
  Numbers are to be written out from one to twelve
  Please submit your contribution once without personal information (surname, first name, email address, university, etc.) and once with personal information and name the files accordingly.
Language Requirements
Articles will be accepted in German or English.
Peer Review
All articles submitted will be thoroughly reviewed by advanced academics. If possible, we intend to have every article assessed by a senior academic by the post-doctoral level upwards and an academic prior to the post-doctoral level. This creates comparability and fairness and provides multiple perspectives for the authors. Please note that all accepted papers will be published together in the yearly issue. The review process might take six months or more.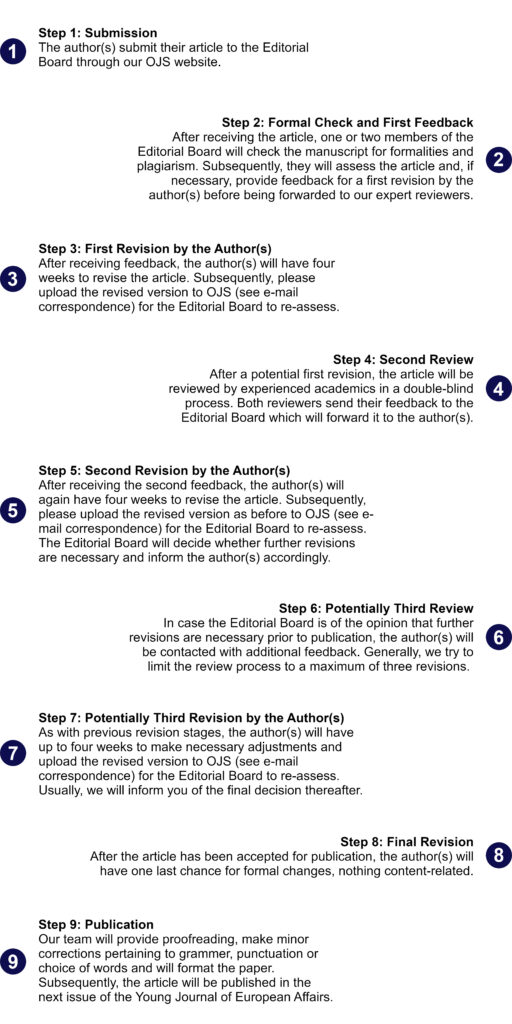 Plagiarism:
Before articles will be forwarded to the peer reviewers, quality assurance also includes checking for plagiarism. In case plagiarism is detected, the article will be considered rejected and be ineligible for resubmission. However, it is possible to resubmit the article after making appropriate changes. For further information on plagiarism, please inform yourself here.