This is the first contribution to the IR in Practice section of the blog. This category is designed to provide students of IR with insights about possible career paths in IR outside of academia. This time, we interviewed Pauline Ngongang about her NGO and her work in peacebuilding and conflict management.
YJEA: Please introduce yourself and tell us a bit about your job?
Pauline Ngongang: My name is Pauline and I was born in Cameroon, in the western region. I grew up in the southwest region, where I pursued my primary, secondary, and tertiary education before traveling to Barcelona, Spain.
I'm a business incline and wanted to explore the international sphere, that's why I moved to Barcelona. I'm the co-founder and Secretary General of a non-profit organisation called Wem'Afrika. The organisation is made up of seven departments, namely conflict management, human rights, gender, humanitarian issues, environment, security, and capacity building.
I'm in charge of the conflict management department and the job comprises the management of conflicts between and within the communities we're working with. Most of the conflicts which occur in our communities are land disputes, border conflicts, resource conflicts, and ethnic conflicts.
What is your academic background? Did your academic education prepare you well for your job?
I pursued a bachelor's degree in history with a minor in archaeology at the University of Buea Cameroon. Also, I obtained a master's degree in peace, conflict, and international relations from the Pan African Institute for Development, Buea in Cameroon before traveling to Barcelona to study a master's in international relations and international business.
After completing my master's program in Buea, my classmates and I were convinced that we needed to do something and were confident about how to contribute to the development of our continent, given the recurrent conflicts across many African countries. Therefore, we realised and internalised the need for change and founded Wem'Afrika in 2016.
When did you start to research security policy and peacebuilding?
During my master's studies in Buea, assignments, conference papers, and seminar papers helped me develop my research skills and area of interest which comprises security policy and peacebuilding.
How did you merge academia and the practical work in IR?
Researching is a daily routine for me. It is quite easy to merge both because they are like theory and practice. Also, academia crucially supports our practical work. We research every day on current topics and implement our findings in the organisation and other organisations we work with.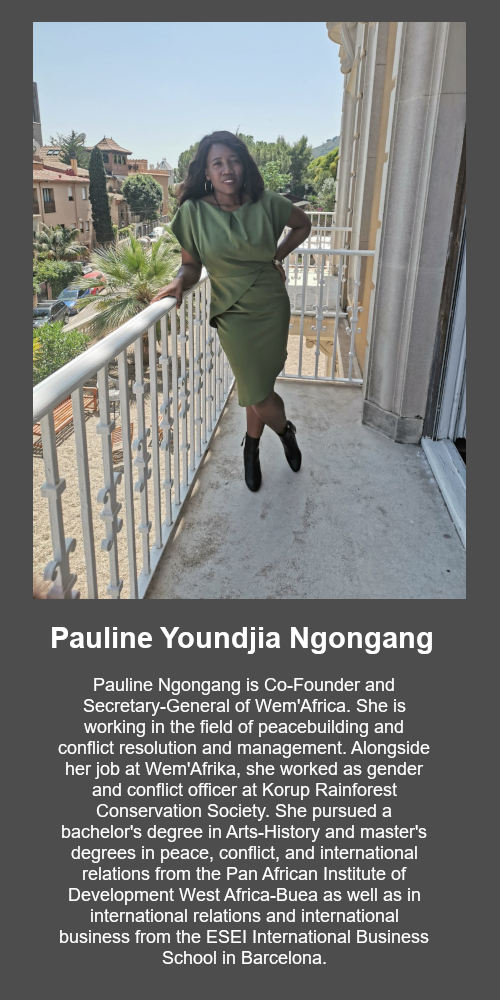 What were obstacles you specifically experienced as a woman?
Being a woman is a privilege during this era of change that the world is facing. We are given more opportunities than men, I haven't really experienced any particular obstacles because of the rapid spread of gender equality. I would rather say an obstacle has been our young age in a field with individuals more experienced than we are. However, age is no longer such a decisive factor, it is rather merit-based.
Tell us more about your NGO: What does your NGO do and when did you start it?
Wem'Afrika was founded on the 18th of July 2016 by final year students of the Pan-African institute, West Africa, Buea, Cameroon. We have the vision of impacting communities throughout the world, be it at the grassroots level, national and international level by carrying out projects that will not only empower them but help reduce the discrepancies which exist among different communities worldwide.
Our goal is to contribute toward Africa's emergence through humanitarian services, health, education, and peacebuilding initiatives. To train Africans to be self-providers of a high standard of living, quality of life, sound health, and well-being. We offer consultancy services to organisations and communities regarding the topics of peace, security, and sustainable development.
Name three important lessons you consider most valuable for your work.
Community Engagement: This is the bottom-up approach. Listening to the needs and desires of the people and engaging the community in the peacebuilding process.
Watchdog for the state: As a Civil Society Organisation (CSO), our responsibility is to remind the state of the norms it's supposed to abide and uphold, the culture of the society it's supposed to value and provide laws that protect the citizens and promote patriotism among the citizens.
Peacebuilding workshops: Engaging the communities into peacebuilding initiatives, contribute to the de-escalation of conflicts in the communities, and providing policies which are being respected by the state and the communities.
How did you come up with the concept of your NGO?
The name "WEM" originates from one of our ethnic groups in Cameroon located at Douala, which is a coastal town in Cameroon. The name means "STAND", "RISE", "AWAKE", this is a wakeup call for Africans as well as the continent. Therefore, Wem'Afrika means Rise Africa.
Who are the stakeholders you're working with?
We're mostly working with municipalities. However, we also cooperate with other NGOs and CSOs working in the field. Many of them have a distinct focus on human rights.
How did you manage to establish yourself and receive projects?
We initially invested financially in the projects ourselves and found some sponsors who assisted in the establishment of the organisation. It's important to be fully committed and passionate about your work, otherwise, it's going to be very hard. Our first project was in cooperation with the Ministry of Women Affairs. One of my co-founders worked there, so we proposed a project to them, and they agreed to pursue it with us.
Do you partner up with other organisations working in the field? Do you have International partnerships with organisations on different continents?
We have partnered up with organisations like Action for Sustainable Development (ASUDEV), Cameroon, Operation Total Impact (OTM), YALI, and many others during the various projects. We haven't worked with international organisations yet, but we are open to partnerships in the future.
Is your main contractor public administration or do you also perform tasks for private entities?
We are an independent organisation and sometimes assist public administration to perform tasks that require expertise in the domain. As mentioned earlier, our main stakeholders are municipalities, other NGOs, and CSOs. So, it's a mix of public administration and independent entities.
How do you finance your organisation?
We receive monthly contributions from fundraising and sponsorships.
Do you only work in Cameroon or did your scope already expand to other countries?
At the moment we're focusing on Cameroon to have an in-depth knowledge of the country before spreading to other countries. But we hope to expand our scope in the future to contribute to peacebuilding in other countries as well.
Does your NGO have an international team or are all your colleagues from Cameroon?
At the moment we do not have an international team, but we are hoping to have one in the nearest future. So far, all of my colleagues are from Cameroon.
How do you manage an NGO based in Cameroon, when you're living in Barcelona yourself, studying a master's degree?
Our tasks have been divided. I'm concerned with the review of articles, project proposals, and news feed, while my team members are concerned with the implementation of the projects.
Why did you found your own NGO, and not join an existing one to gain more experience?
We thought it was necessary to create such an organisation because many NGOs did not focus on peace and security. This could be an opportunity for the organisation to blend in and supplement the knowledge there is about our field of expertise in society.
What were the most severe obstacles in founding such an organisation as a university student?
You basically already mentioned it in your question, it was going to school and working at the same time.
What was the most exciting process you have ever worked on (with municipalities or other stakeholders)?
Working with the Ministry of Women Affairs on the celebration of the international widow's day in the southwest region, Buea. The outstanding impacts on the lives of the widows encouraged us to continue working on the issue, thus, we provided humanitarian assistance to these women.
What was the most devastating process you have ever worked on?
The prison medical clean-up campaign. We got involved in the 2nd edition of the prison clean-up in Buea. There were 3000 inmates and the medical team was drastically understaffed. The equipment was insufficient, the living conditions poor, and the health care was very inadequate, so we assisted in disinfecting the rooms and the environment, preparing meals for families, and distributing clothes, which was tedious as the inmates were scrambling.
How do you deal with failure in an area of work that sensitive?
While being taught at school, we were already prepared for what we were going to encounter during crises and after crises in society. We make sure to equip our mindset and apply theory in areas where we can't prove our practical skills due to our early career stage. We seek advice from experts in the field, we attend training and workshops to enhance our work. Even though, of course, we're aiming to avoid failures, they're part of the process and will encourage you to improve personally and professionally.
Who are the main opponents you are up against? How do you deal with opposition against your work?
We don't have opponents at the moment. We serve as peace ambassadors to create a path toward the peace process in our communities, society, continent, and eventually the international level. That's why we decided to focus on these areas and to negotiate peace at the community level before approaching the international community (bottom-up approach).
How do you ensure that the peacebuilding process is sustainable, meaning successful in the long-term?
Our engagement with the community is a process of sustainability because we don't only focus on specific groups in society. We try to integrate minority groups and build a community that acknowledges the differences between its members and values the different perspectives. The organisation focuses on young people in secondary school, providing them with career orientations and creating peace clubs in order to learn how to support one another during school and after.
The European Union is quite engaged with the Common Security and Defence Policy (CSDP) missions in countries outside the EU. What are important lessons from your work that need to be considered in European politics?
We need to acknowledge that the EU and the African countries which the EU is engaged in have different cultures, different histories and that their societies function differently. Currently, there are many young organisations arising in Africa, advocating for change. The European Union should empower these movements and support them, e.g. by establishing international exchange programs specifically designed to enhance the exchange between the EU and Africa. In this way, young people will develop mutual understanding and have the possibility to unite the best from the various systems they get to know along the way.
When it comes to the current engagement, it's crucial to identify existing grassroots movements and engage with local communities to establish a really long-lasting peace process. It's no good to implement an idea of a functioning system, the EU must rather empower local communities to develop solutions for existing problems on their own and develop strong institutions.
How did your job change due to Corona?
Corona is an era of change and the change is seen in the digital space. We do mostly online sensitisation now, updates on the impacts of Corona on the society, and measures to put in place to prevent the spread. We are hoping to start engaging soon in implementing the projects we have prepared.
Which kinds of new conflicts did Corona bring up and how do you manage these conflicts?
Stigmatization, unemployment, emergency preparedness, and identity conflicts. Many individuals did not expect this pandemic could cause such chaos in the world. Victims of the disease are treated peculiarly, and this made them uncomfortable. That's why they would rather keep it to themselves when they are infected.
Unemployment. The majority of the people are working in the informal sector and during the lockdown, most of them lost their jobs. To support them, we developed free online courses in which they learn how to use the internet to substitute their income losses.
Emergency Preparedness. Many of the individuals and states were not prepared for the outbreak of the pandemic and, thus, the societies were affected greatly. We are to engage in emergency preparedness courses to inform the population what are the various measures they could embark on when they are confronted with crises.
Identity conflict. The spreading of the virus has led to an identity conflict among society. The elderly fear the youth and vice versa. Therefore, society must understand that everybody is prone to the virus and preventive measures should be taken seriously. We're using social media to sensitise the public on how to respect and give aid to the victims while being at home themselves, trying to break the isolation of the COVID-19 victims in the hospitals at least by digital means and cheering them up.
Do you have a vision you're working toward achieving?
Yes of course! To mediate and negotiate conflicts in our society first before entering the international sphere. Creating peace clubs among the youth in order to build the spirit of patriotism and solidarity for one another. Accepting differences and using them as a force toward unity. And lastly, improving education and language as the backbone of every country's development.
What would you recommend to any student interested in founding an organisation like yours? What does this career choice entail?
If diplomacy is your dream job, if observing society is your daily lifestyle, if change, process, and results are your expectations, and if your work and vision represent peace, then contribute to the world because the society needs people like you. Have mentors in your field and try to build your own identity as an ambassador for peace.
Name one book you would recommend to everyone interested in learning more about peacebuilding and conflict management.
Understanding Conflict Resolution by Peter Wallensteen. Everything you need to know about conflict management is in this book.
Name the most important advice you received during your time at university.
Study when you can, go out, ask, and seek understanding of why things happen the way they do and know your environment, so when it changes you understand the roots of the problem. This is basically the summary of what all my lecturers told me while I was studying for my masters. Shortly speaking: Try to enhance your understanding of the way society works.
If you want to learn more about Wem'Afrika and the work they're doing, feel free to check out their Facebook page here and their website here (please notice that the website is currently under maintenance). You can also contact Pauline directly at paulineyoundjia@gmail.com.